Download the latest Thomas Industrial Research
Our annual benchmark study on career advancement in the North American manufacturing industry, conducted in collaboration with Women in Manufacturing, helps identify the key factors contributing to talent acquisition and retention in our industry. We surveyed more than 660 manufacturing companies to better understand industry makeup, career and recruitment opportunities, desired benefits and training options, and industry attitudes and perceptions. Our expert report uncovers the following: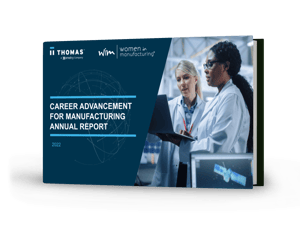 Career Affinity: 75% of women and 80% of men are likely or very likely to recommend a career in manufacturing.
Industry Entry Points: STEM programs are the most effective pathway for women to enter into the manufacturing industry.
Retention Opportunities: Training programs have had the most significant impact on career advancement.
Gain an intimate knowledge of the concerns and coping strategies currently in industry - Fill out the form to get your copy of this insightful resource now.