Download the latest Thomas Industrial Survey Report
Thomas, North America's leading industrial sourcing and marketing platform, surveyed over 2,700 manufacturing companies in February, March and April 2020 to understand COVID-19's ongoing impacts on North American manufacturing. Our expert report uncovers the following: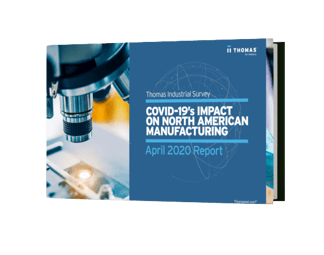 Key Insights: Manufacturers report a significant jump in COVID-19-related impacts (89%), compared to March (45%).
Industry Trends: Manufacturers work on restructuring as 44% have already experienced or are planning layoffs, while 31% are hiring.
Increased Reshoring Interest: Two-thirds of the companies stated they are likely to reshore; of those companies, 20% stated they are extremely likely to reshore, compared to only 9% in March.
Firmographics: Key surveying groups include Original Equipment Manufacturers, Custom Manufacturers, and Distributors with a mix of SMBs and global corporations.
Gain an intimate knowledge of the concerns and coping strategies currently in industry - Fill out the form to get your copy of this insightful resource now.