See the top services and products buyers searched for and where the biggest sourcing increases occurred on Thomasnet.com.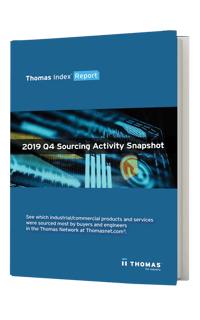 Reviewing sourcing data and understanding what your prospects are searching for helps you make smarter decisions that contribute to your company's bottom line.
Every two seconds, a buyer or engineer logs on to Thomasnet.com to source products and find new suppliers. Is your product something they're searching for?
Our 2019 Q4 Sourcing Activity Snapshot report will show you:
The top 20 Product categories buyers are looking for at Thomasnet.com
The top 20 Service categories being sourced on our platform
The 20 categories that saw the biggest increase in sourcing in Q4 this year over Q4 in 2018