See the digital marketing and sales challenges U.S. manufacturers are still experiencing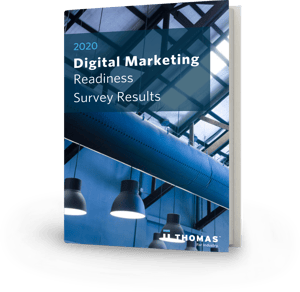 Digital marketing and sales continue to be a challenge for many U.S. manufacturers.
While many have welcomed digital transformation into their business, incorporating the right technology, tools, and time to manage it all (especially marketing and sales) is still lacking.
Thomas surveyed more than 600 U.S. manufacturers to see how they're responding to the shifts in technology and the buying process that continue to change the industry.
Our survey results will give you insight into just that. You'll learn:
The website challenges U.S. manufacturers are experiencing
A way to see the names and contact info of your website visitors
What you should focus on in 2020 to get more leads and convert them to customers
As a growing small business, understanding what others are doing in your industry ensures success for you today and tomorrow. Download the survey results today.