Stay in front of B2B buyers throughout the supplier evaluation and selection process.
_________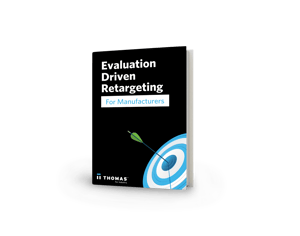 There are many digital marketing solutions out there, but none of them were built specifically for manufacturers – until now.
Evaluation Driven Retargeting, exclusively from Thomasnet.com, is the first B2B retargeting solution that aligns with the supplier evaluation and selection process.
Here's what you can do with Evaluation Driven Retargeting:
Promote your brand to a highly targeted segment of Thomasnet.com's powerful buying audience when they are elsewhere on the web

Stay in front of your best prospects throughout the supplier evaluation and selection process

Gain a unique marketing advantage over your competiton

Increase your likelihood of getting found, evaluated, shortlisted and contacted by serious buyers
Retargeting Built For Manufacturers

– And Their Budgets
In addition to putting you in better position to connect with B2B buyers, Evaluation Driven Retargeting will also put you in better position to maximize your digital marketing budget. That's because it eliminates the wasteful spending associated with typical retargeting programs. Your ads only retarget serious buyers who are relevant to your business goals – not existing customers, competitors or people who accidentally stumble onto your site with no intention of doing business with you.
In an industry in which supplier evaluation and selection can take weeks or longer, this can be the competitive advantage you've been looking for. To learn more, fill out the brief form to get our eBook, or call
(855) 203-3956 to speak to a Thomasnet.com representative about your business goals and how a customized digital marketing solution from Thomasnet.com can help you meet them.