Keep your industrial marketing on the cutting edge.
_________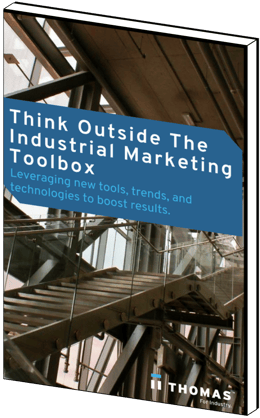 It wasn't too long ago that concepts like inbound marketing, content marketing, SEO, PPC, and marketing automation were pretty far-fetched in the industrial space. While many manufacturers were hesitant to adopt these new approaches, the ones that did gained a distinct advantage, essentially giving them a headstart in a crowded race for new customers.
Today, however, these techniques aren't an advantage — but rather a requirement. You need them to get in the race in the first place, lest you get left behind.
So what can you do now to give yourself a leg up when it comes to attracting buyers and generating leads? You need to think outside the standard industrial marketer's toolbox and be willing to adopt new strategies.
Our eBook, Think Outside The Industrial Marketer's Toolbox, explores five cutting-edge digital marketing tactics you can implement to take your marketing and lead generation to the next level.