Download Thomas Guides to Successful Negotiation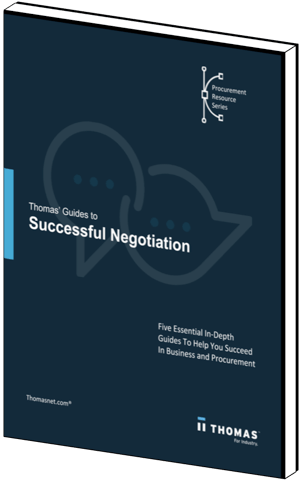 Want to master the art of negotiation? Our expert guide covers the following:
Approaches to negotiation: 90% of the work in negotiation should be done well before you enter the room. We'll explain how you can plan ahead to hit your buying goals.
Negotiation skills: From empathy to persuasion, we've got you covered with all core skills you need to be successful.
Traps to avoid in negotiation: Make sure you know who should be involved in the conversation, how to deal with emotion/anger, how to avoid a stalemate, and other potential pitfalls.
Negotiation tactics: From BATNA, game theory, to pressure tactics, we'll explore different strategies to employ for a successful negotiation.
How to determine success in a negotiation: Negotiation is not only about getting the best possible deal, but also about you can actually strengthen relationships through negotiation.
A 26-point ultimate checklist to help you map the above considerations into your day-to-day workflow.
Fill out the form to get your copy of this insightful resource now.