Get more purchase evaluations with a Thomas Registered Program on Thomasnet.com
®

.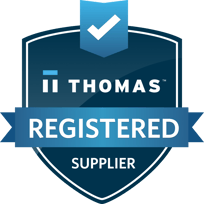 The Thomas Registered badge indicates that the supplier business information has been validated by the Thomas Supplier Analyst team and has been activated to receive inquiries sent via the platform Request for Quote (RFQ) tools.
Testing proved higher confidence in the companies who had badges.
A Thomas Registered Program Includes:
Thomas Registered Badge, company profile creation, and primary category classification
Access to company profile management tools and company profile RFQ capability
Program reporting and lead intelligence from Thomas WebTrax™ Analytics
The ability to add Product/Capabilities Content Showcase
Sign up today to get started!
Fill out the form to learn more.