Thomas
Registered Program
See who is looking for your products and services right now, get an RFQ button to receive opportunities from active buyers, and establish trust with a Thomas Registered badge.
$75 per month / $600 annually Save 33%
Fill out the form to get started or subscribe over the phone by calling 212-290-8888.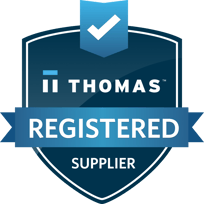 A Thomas Registered Program Includes:
Thomas Registered Badge where your company name appears

Tools to manage your Thomas profile

Generate direct leads on Thomasnet.com
through quoting tools

Premium Analytics Tools

to identify in-market buyers engaging with your products & services

Complete classification in all categories for each product & service type offered

Enhanced Positioning above claimed companies in all categories

Call tracking reporting

Website visitor identification and analytics through Thomas Webtrax
Fill out the form to get started.