Thomas
Verified Program
Lock in premium, top-tier positioning in supplier search results to maximize your audience targeting and brand reach.
Fill out the form to get started or call us at 212-290-8888.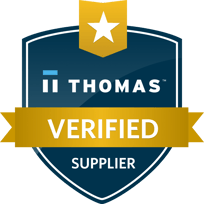 A Thomas Verified Program Includes:
Thomas Verified Badge where your company appears

Tools to manage your Thomas profile

Generate direct leads on Thomasnet.com through quoting tools

Premium Analytics Tools to identify in-market buyers engaging with your products & services

Complete classification in all categories for each product & service type offered

Premium Positioning in 30+ categories with Enhanced Positioning in remaining categories

Call tracking reporting

Website visitor identification and analytics through Thomas Webtrax

Product catalog with up to 1,000 SKUs

Video advertising of products and services in select categories
Fill out the form to learn more.