What Is the Monthly Update Email?
We created the Thomasnet.com Monthly Update to provide our registered users with a round-up of our best features, procurement tools, and career resources. With over 120 years of experience in connecting industrial buyers and suppliers, and working with 1.5 million professionals on a monthly basis, our goal is to help you grow your career and get your job done, fast.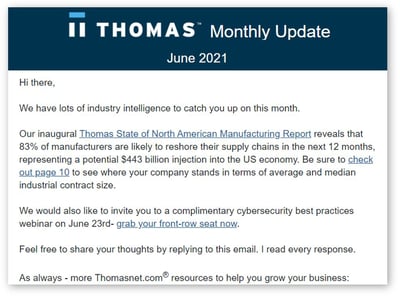 Each issue of our newsletter features:
We would love to hear your thoughts and ideas about the Monthly Update. Feel free to reach out with questions and concerns using the "Feedback" tab on the right side of the page, or click on an emoji at the bottom of the email to let us know what you think.
Hear from Other Industrial Professionals Like You
In my busy day, with countless emails, InMails, Text Messages, Social posts etc... your Monthly update was fresh, relatable and fun. Well done!

There is always worthwhile info to help better understand the supply chain world - thank you.
About Thomas
For over 120 years, Thomas has served as North America's number one industrial sourcing platform and marketing powerhouse. We serve professionals on both sides of the industrial buying process to create solutions that inform, support, and empower industry. Our platform, Thomasnet.com, is used by over a million industrial professionals like you to find the products and services they need.
Subscribe Or Manage Your Email Preferences
To subscribe to our newsletter and access over 500,000 North American suppliers for free, register for an account on Thomasnet.com. Afterward, you can update your email preferences in the Newsletter Subscriptions section under My Account.
You can also manage your subscription by selecting "Modify Your Preferences" or "Unsubscribe" at the bottom of any Thomasnet.com Monthly Update email. If you have a moment, please let us know why you unsubscribed so we can improve our system.