A smart, targeted program on our platform exposes you to decision-makers at every stage of the buying cycle. Engineers, plant managers, purchasing agents, MRO buyers – they come to Thomasnet.com when they're serious about supplier discovery and product sourcing. When they come looking for what you offer, here's how to make sure they can find you.
Promote your strongest content.
Buyers and engineers use the Thomasnet.com platform to vet and compare suppliers in great detail. They prefer to be close to a purchase decision before contacting suppliers directly, and the comprehensive content we enable you to promote gives them what they need to put you on their shortlist. Fill your Thomasnet.com Company Profile with the detailed content buyers and engineers need
In addition to the wealth of information you can provide in your free Company Profile, you can turn your detailed products and services content into a powerful selling tool on Thomasnet.com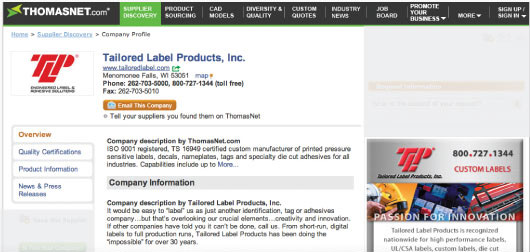 Position yourself where your best prospects are looking
Rank high in product / service categories that align with your specific business goals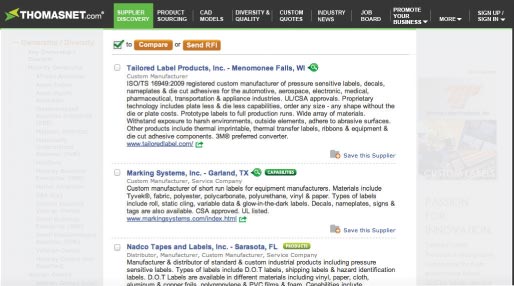 Thomasnet.com lets you promote your company in all of the various product and service categories that are relevant to what you do. However, if you're like most businesses, you have a few key areas you need to focus on to meet your business goals. Through a targeted ranking program, you can specify premium placement in those key categories on Thomasnet.com, to help you get found by more of the buyers who matter to you most.
Differentiate yourself from the competition.
When you're sitting face to face with a prospect, one of the questions they're likely to ask is "why should I choose you?" That's your opportunity to talk about what sets you apart from everyone else who does what you do. And that's exactly what a Company Profile Ad does on Thomasnet.com. As the "cherry on top" of your profile, your ad shows buyers – immediately and at a glance – that they've come to the right place when they visit your profile.
Stand out with a Company Profile Ad that conveys your most powerful selling points