Find out how Thomasnet.com helped Jonco exponentially grow their sales without growing their sales force.
____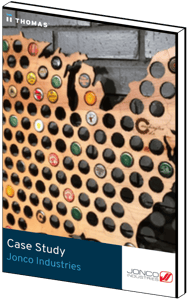 Jonco Industries delivers custom manufacturing services to clients nationwide, but they rely on Thomasnet.com to deliver leads to their business. Recently, one of those leads came from a pair of mechanical engineers in Madison, Wisconsin who had a passion for craft beer and a vision for a new business – Beer Cap Maps. We brewed up a great match.
Download the case study to learn more about how Thomasnet.com helped Jonco attract new customers and grow their business.