Reach Over 1.4 Million In-Market Industrial Buyers
Built for suppliers to receive quotes, communicate with buyers, manage projects, and get paid. Select the subscription that fits your company, advertise on Thomas, and grow your business today.
Included with

Every Thomas Supplier Account:
Customizable Company Profile
Monthly Analytics Reporting
Free Product Planning Software
Ability to Manage Team Members
Sell your products on the Industrial Buying Engine™
Company Profile Content Management
Learn more about

Registered & Verified Profiles

Product and Service Showcase Add-on

Highlight your company and build trust with Thomas Supplier Badges.

Move your business to the top of buyer search on Thomas, allowing more buyers to see your products and services.

Generate more leads and sales by improving your position across the Thomas catalog. Businesses that rank higher on Thomas can see up to a 400% increase in buying actions.

Supplier Analytics Dashboard of identified companies searching your profile with interest level, category market share, activity metrics, and more.

Thomas WebTrax™ is designed to provide industrial companies with analytics and insight into which prospects are engaging with their website and what information they are seeking out.

Unlock Showcase and amplify your products directly on your Thomas profile. Give buyers details about the products and services your business offers. Exclusive add-on to Verified customers.

Use the power of video to attract in-market buyers. Thomas Video Advertising offers industrial companies the creation and placement of video content on their company profile.

Through the Industrial Buying Engine™, receive project invitations from buyers, view all new and open projects, and checkout to get paid.

Placed Ahead of Claimed and Registered

Placed Ahead of Claimed and Registered

Thomas
Verified + Video
Make your company stand out with a spectacular, well-produced video created by experts in the industrial manufacturing space.
Most business owners new to digital marketing tend to think that videos and creating other assets need to have a big budget. With the purchase of a video advertising program from Thomas, we offer video production services for manufacturers and industrial companies at a fraction of the cost — yes, that means we'll use our equipment (even a drone!) to record your shop floor or your products and services.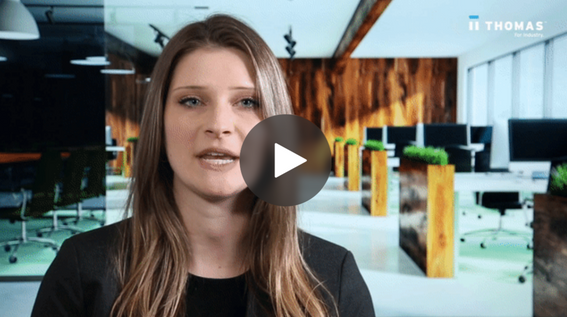 Product Spotlight Video
Best for OEMs, distributors aiming to present in-depth details and benefits about a specific product or product line.

Project Spotlight Video
Best for custom manufacturers showing off their capabilities through projects they've completed.

Capability Spotlight Video
Best for custom manufacturers aiming to show off a wider range of manufacturing or product capabilities.

Factory Tour Video
Best for custom manufacturers where showcasing their facility (machines & processes in action) delivers the most benefit.

Company Overview Video
Best for OEMs, distributors aiming to present their brand, range of products/services and key differentiators.
Learn More
Promote Your Company to the Entire Thomas Buying Audience
1.5 Million
Sessions Monthly
20,000
New Registered Monthly Users
1.4 Million
Registered Users
Expand Your Marketing with

Thomas Products
Hear From Companies

Just Like Yours
Having a Thomasnet.com Verified Program has helped us engage with more engineers and buyers and we've seen that translate into a clear increase in traffic and RFQs. We'd recommend a Verified program to industrial companies looking to make an impact in their digital marketing.
—Reynolds Culligan, Pennsylvania

We set a record for quotes in Q1, increasing them by 197% over the previous year. The average value of quotes has grown. We have received orders on the same day. The sales team can't believe how many good opportunities they have now. Participating in the Thomas program has changed the way I market my business.
— Corrugated Metals, Illinois

The Thomas partnership yielded immediate results for USTEK. The very week that we went live with Thomas we had three calls from potential customers. Over the past 18 months, we've quoted 37 new RFQs, for brand new customers. Every single one of them came from Thomasnet.
— USTEK Incorporated, Ohio