Tony Uphoff Honored as Keynote Speaker During World Trade Week NYC
This press release was issued on May 4, 2021
Tony Uphoff Honored as Keynote Speaker During World Trade Week NYC
Thomas President & CEO Presents on 'The Future of Manufacturing'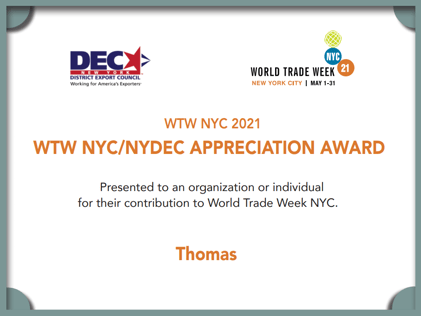 New York, NY – May 4, 2021– Tony Uphoff, president and CEO of Thomas — the leader in product sourcing, supplier selection, and marketing solutions for industry — was honored as the keynote speaker and presenter at the World Trade Week NYC 2021 kickoff event earlier today. Uphoff spearheaded a virtual conversation centered around the digital transformation of the industrial sector, along with other trends propelling innovation across the manufacturing landscape.
"While this year has delivered unprecedented challenges, New York manufacturers have proved their resilience once again. There has never been a more exciting time for industry as the manufacturing sector at large is on the precipice of explosive generational growth," said Uphoff. "I am thrilled to serve as World Trade Week NYC's keynote speaker, and I look forward to the opportunity to help inform and equip regional industrial leaders with the critical insights they need to guide their businesses into the future."
Uphoff's virtual presentation, "The Future of Manufacturing Is Here. Now.," shared deep insights into reshoring trends, recent shifts in national and global supply chains, and regional sourcing activity in New York. His keynote speech also provided industrial business leaders with best practices for staying ahead of the digital curve as AI, automation, and the digital transformation of sales and marketing continue to gain momentum throughout the manufacturing sector.
Thomas also received the World Trade Week NYC/ NYDEC Appreciation Award, a recognition awarded to impactful industry leaders in the New York region.
World Trade Week NYC is hosted by the New York District Export Council (NYDEC), which comprises more than 70 organizations in the New York metropolitan area. Emphasizing the critical importance of international trade, logistics, and port operations to the region's economy, NYDEC members use their collective expertise to help New York-based businesses grow through international trade opportunities.
About Thomas
Thomas provides actionable information, data, analysis, and tools that align with and support today's industrial buying process. Its solutions include the Thomas Network at Thomasnet.com®, industry's largest and most active buyer/supplier network. Through Thomas Marketing Services, the company provides full-service industrial marketing programs and website development. Thomas Product Data Solutions helps manufacturers connect with design engineers through advanced CAD/BIM and data syndication services. Thomas Industrial Data supplies sourcing and supply chain trend data to media, investors, analysts, and researchers to provide market insight and inform decision making. Thomas WebTrax® provides opportunity intelligence on in-market buyers to help marketing and sales teams track, identify, and engage high-value prospects. Thomas Insights delivers original content to help supply chain professionals and business leaders inform their decision making through leading titles including Inbound Logistics®, the Thomas Industry Update, Industrial Equipment News® (IEN®), and the Thomas Index ™.
About Tony Uphoff
Tony Uphoff is the President and CEO of Thomas, the parent company of Thomasnet.com: the leading platform for product sourcing and supplier selection for the Industrial and Manufacturing markets. His career in business information has given him a ring side seat for every major technology transformation of the last 25 years. Tony regularly speaks on the digital transformation of business and the overarching impact technology is having on business management and leadership. In addition to his role at Thomas, Tony also serves as an advisor and board member of several tech and media companies as well as a mentor at Mucker Labs and a Trustee of Linfield College.
Contacts:
Alex Kofsky - alex@rosengrouppr.com
Rita Lieberman - rlieberman@thomasnet.com
Did you find this useful?