Protec Scientific, a manufacturer of U.S.-made handheld UV sterilization devices that disinfect, had been using a range of digital marketing tactics to grow their brand presence. The team at Protec Scientific understood that to drive qualified leads, they would need to create a strategy that would reach highly qualified buyers and decision-makers within the industrial space.
"A big obstacle was always informing and educating potential customers on what our product could do for them and how it stands apart from the competition," said Daniel Glick, data and analytics manager at Protec Scientific.
A Strategy
To Build Brand Awareness & Drive Leads
Understanding that Protec Scientific needed to grow its brand visibility, engage the right buyers, and ultimately, drive new leads for their sales group, the team at Thomas recommended newsletter ad placements and a Spotlight article in the Thomas Industry Update (TIU).
"The team at Thomas recommended the Thomas Industry Newsletter as the best way to get our message out and to create some buzz for our product. We knew we had a great product that could help many businesses mitigate risk during and after the pandemic."
By leveraging a sponsorship in TIU, Protec Scientific would be able to engage up to 300k industrial decision-makers made up of engineers, procurement professionals, and management professionals who read the newsletter on a daily basis for industry news, product announcements, company highlights, and more.

Design Engineers

Maintenance, Repair, & Operations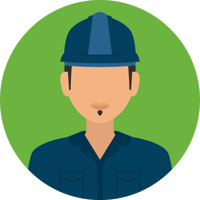 Procurement Professionals

General Management
Executing
The Newsletter Advertising Strategy
To increase the overall engagement of their newsletter send, Protec Scientific selected to target the full TIU audience that included General Manufacturing, General Management, Maintenance/Repair/Operations, Supply Chain/Procurement/Logistics, and Engineering/Design. These target recipients were divided into three groups and sent three unique message variations to help Protec Scientific promote their Spotlight article, "This Cutting-edge Device Wipes Out Germs Within Seconds."
By promoting content that is designed to help prospects complete their "jobs to be done," Protec Scientific was able to drive qualified traffic to their website and position themselves as a resource for potential customers.