B2B Digital Advertising Solutions for Manufacturers and Industrial Companies
Build your brand with the B2B buyers you need to meet your business goals.
When procurement professionals and engineers get serious about finding and evaluating the right suppliers, they go to Thomasnet.com. In fact, these purchase decision makers perform more than 1.3 million supplier evaluations every month. But in today's industrial/B2B world, the buying cycle can be many, many months. Gaining a competitive advantage means keeping your brand "top of mind" with the customers that matter to your business — before, during, and even after their buying need is defined and a sale is made.
Evaluation Driven Digital Retargeting Ads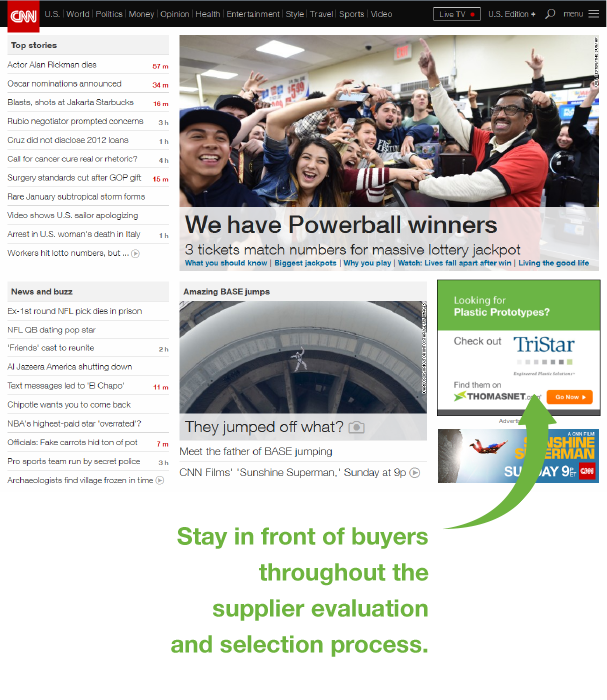 Promote your brand to a highly targeted segment of our powerful buying audience across the web with Evaluation Driven Retargeting, the first digital retargeting solution built for manufacturing and industrial companies.
Built specifically to align with the industrial buying cycle, Evaluation Driven Retargeting promotes your content to engineers and buyers that were actively searching for the products or services that you offer.
Here's what it can do for you:
Puts you in front of your best prospects throughout their supplier evaluation and selection process
Eliminates wasteful spending associated with traditional retargeting programs
Increases your likelihood of getting found, evaluated, shortlisted and contacted by serious buyers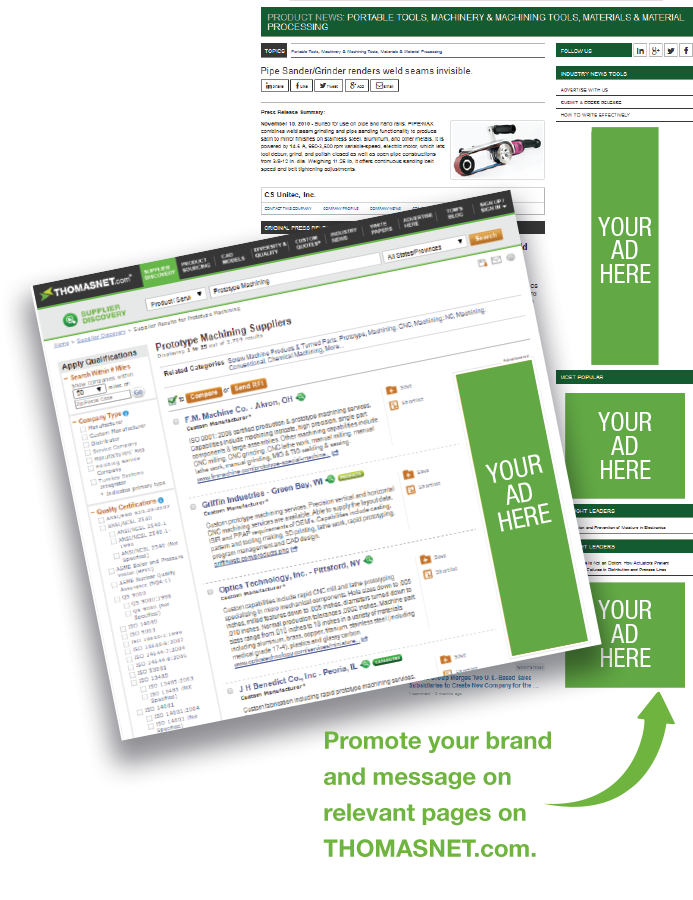 Display advertising on Thomasnet.com performs 27 times better than the industry average. It's the perfect way to put your company in front of prospects who are looking for what you have to offer.
Display Advertising solutions include:
Run-Of-Site Ads rotate on relevant pages based on the products and services you offer. These ads appear on both Thomasnet.com and on Industry News.
Complementing Ads appear on pages related to your core products and services. These ads are a great way to promote new offerings and reach new customers.
Category Page Sponsorships ensure you are top-of-mind with top-of-page ads in Industry News. Choose from 50 news categories to reach your desired audience.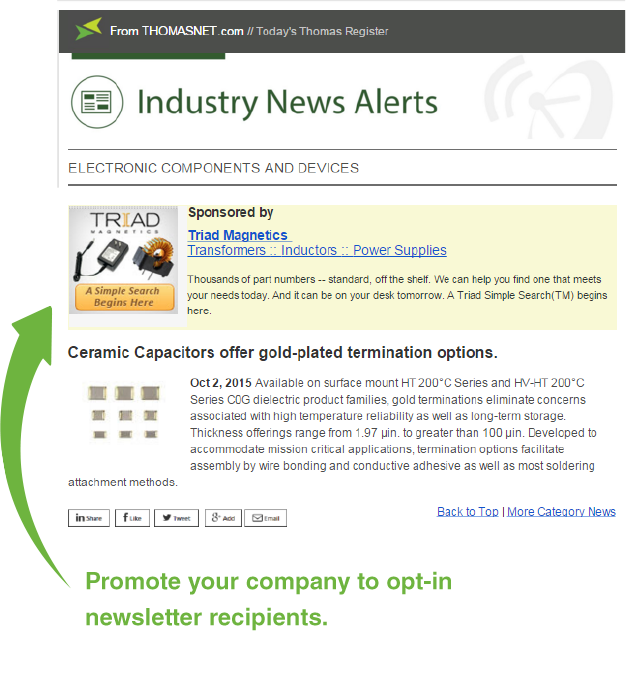 Our emails are delivered to thousands of serious buyers every day, and each alert is tailored to the products and services that matter most to the subscribers receiving them.
A Sponsorship allows you to feature your name, logo and image, along with a brief description of your offerings. You can be the sole advertiser per category, giving you exclusive access to readers that are most interested in the products or services that you provide.