B2B Digital Marketing Solutions for Manufacturers and Industrial Distributers
Build your brand with the B2B buyers you need to meet your business goals
When procurement professionals and engineers get serious about finding and evaluating the right suppliers, they go to THOMASNET.com. In fact, these purchase decision makers perform more than 1.3 million supplier evaluations every month. But in today's industrial/B2B world, the buying cycle can be many, many months. Gaining a competitive advantage means keeping your brand "top of mind" with the customers that matter to your business — before, during, and even after their buying need is defined and a sale is made.
THOMASNET.com makes it possible, with a suite of B2B digital marketing solutions that help you raise your profile on (and beyond) our platform, and build awareness of your business among this powerful and engaged audience. Whether your company is a product and component manufacturer, capital equipment manufacturer, custom manufacturer or industrial distributor — or if you are an agency or industry trade group representing these companies — we can craft a customized program that meets your needs, budget and business goals. Read on to learn more about the different solutions we offer, or contact us to get started today.
Learn how advertising on THOMASNET.com can help you Raise Your Profile
among the industrial and B2B customers you need most.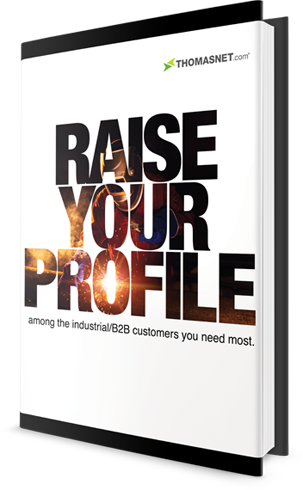 Contact Us.