A New
Website Design

for Your Manufacturing Business
So, about that website you've been "updating" for the past four years.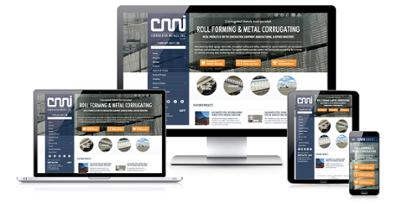 Sure, your existing customers don't mind the one you have now, they love you. You've delivered for them for years. But what about the next generation of decision makers and the companies breaking into new markets that need your products or services?
They don't know how great you are.
They start their decision making process by looking at your website. If it leaves them confused, under informed, or "turned off" you've lost the opportunity before you even knew it existed.
You and the team work too hard and put in too many hours to let new business slip through your fingers this easily, and today is the day it can change.
Our design team will focus on creating the most effective user experience for the content that your targeted audience needs to make decisions.
This means engineering the most logical navigation pathways, structuring each page to provide the optimal display of content, and driving the user to the desired conversion actions. At the same time we will implement all of the latest SEO best practices to generate the most valuable traffic. All of this planning is then rolled into a website graphic design that accurately represents your business and brand.
We constantly implement new website design trends and developments in each project we take on. It's your unique brand, it deserves no less.
While we use different platforms based on customer needs, we always create responsive web designs, which means all the content remains the same but will display optimally whether you're on a desktop monitor, a tablet, or a smart phone.
Remember when Dad used to sit you down to have a talk when you were getting behind on things?
Those were never fun, but he was usually right… and you knew it. This is another one of those times.
Building a new website seems daunting, but we've done this thousands of times — seriously. We'll walk you through it.
Whether you run a family manufacturing business or a large multinational corporation, it's never too late to scratch this off your "to do" list. Get your website design at the forefront of the manufacturing space with a new website. Potential customers will stop second guessing you and instead join the long list of current customers that love you.
Contact Us.