Business Wire: Thomas' Tony Uphoff Engages Industry at 2019 Manufacturing Summit
This press release was originally released on August 5, 2019 at 9:35 AM on Business Wire. This release can also be found on YAHOO! Finance, NBC-2.com, and NewsOn6.com.
New York, NY – August 5, 2019 – On the heels of moderating a roundtable on manufacturing at the White House,
Thomas
President and CEO Tony Uphoff, joined Congressman Reed (R-NY), co-chair of the House Manufacturing Caucus at the 2019 Manufacturing Summit in Elmira, New York. Thomas, the leading provider of product sourcing, supplier selection and marketing solutions for industry, has served and advocated for the industrial sector since 1898.
The Manufacturing Summit for the 23rd New York District was held on August 2 and featured a panel discussion on manufacturing between Congressman Reed and Uphoff. Additionally, Uphoff spoke at a breakout session titled, 'Growing Your Markets: Expanding Your Reach, in which he shared how to generate sales opportunities that align with the industrial buying process.
"Since the late 1800s, Thomas has witnessed first-hand the ever-evolving landscape of the manufacturing sector, with each decade introducing new opportunities for growth. Currently, we are experiencing a shift in the industrial buying process, with a focus on the digital transformation of sales and marketing," said Uphoff. "I'd like to thank Congressman Reed for inviting me to speak at the Summit and I'm thrilled for the opportunity to help share our industry experience and assist businesses as they embrace this new era of transformation to remain competitive on the global stage."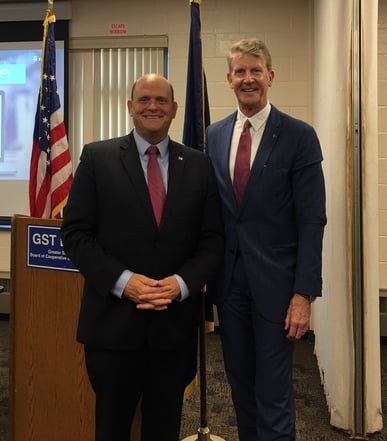 Over 100 individuals from the regional manufacturing and industrial community attended the summit. The Summit offered several choices of panels and breakout sessions led by thought leaders and industry experts which provided insights into the current state of manufacturing including new technologies, maximizing tax breaks, support for smarter manufacturing, educating the new generation of workers and other topics designed to help grow their businesses.
"Manufacturing is experiencing a major revival throughout our nation. To capitalize on this momentum, it's more important than ever to support businesses in our community and provide them with tools for success. I'd like to thank our industry leaders including Tony for participating in this year's summit and commend their dedication to helping the New York manufacturing sector soar to greater heights than ever before," said Reed.
About Thomas
Thomas provides actionable information, data, analysis and tools that align with and support today's industrial buying process. Its solutions include the Thomas Network at Thomasnet.com®, industry's largest and most active buyer/supplier network. Through Thomas Marketing Services, the company provides full-service industrial marketing programs and website development. Thomas Product Data Solutions helps manufacturers connect with design engineers through advanced CAD/BIM and data syndication services. Thomas WebTrax® provides opportunity intelligence on in-market buyers to help marketing and sales teams track, identify, and engage high value prospects. Thomas Insights delivers original content to help marketers and supply chain professionals inform their decision-making, through leading titles including Inbound Logistics®, Industrial Equipment News® (IEN®), Thomas Industry Update, and the Thomas Index™.
Contacts
Media:
Alex Kofsky
Alex@rosengrouppr.com
Rita Lieberman
RitaLieberman@thomasnet.com
Did you find this useful?