Making a Global Impact: Institute for Supply Management® and Thomas Honor 30 Rising Supply Chain Stars
Winners Stand Out for Cross-Border Innovations and Digital Problem-Solving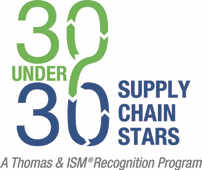 FOR IMMEDIATE RELEASE
Tempe, ARIZONA and New York, NY – March 14, 2018 – Saving more than ten million dollars, updating technology across 8,900 stores, explaining results from a 27-country region to top management, and increasing forecast accuracy with new digital tools are just some of the achievements of the latest winners of the Institute for Supply Management® (ISM®) and Thomas 30 Under 30 Rising Supply Chain Stars Recognition Program. Today, the organizations announced all of the honorees, including megawatt winner Charlotte de Brabandt, a category associate with Johnson & Johnson.
"The accomplishments and talents of this group are nothing short of remarkable," said Tom Derry, CEO of ISM. "They stand out for their international sensibility, cross-border innovations, digital problem-solving ability, and commitment to driving enterprise-wide value. These next-generation leaders are providing their organizations with a powerful competitive advantage on the worldwide stage."
Now in its fourth year, the ISM/Thomas program honors individuals who are 30 or younger and demonstrate leadership, innovation, collaboration and other outstanding attributes--at work and through their professional associations. Intended to help bridge the talent gap in procurement and supply management, the program provides role models to Millennials seeking out exciting new career opportunities.
"The latest 30 Under 30 winners exemplify the new generation of supply chain leadership," said Tony Uphoff, President and CEO of Thomas. "They demonstrate daily what is possible to achieve in a profession that is riding the wave of innovation and creativity."
Working in the U.S. as well as Spain, Switzerland and Singapore, the honorees are making their mark on the manufacturing industry (with the highest concentration of winners), as well as the military/government, aerospace and defense, business services, healthcare, oil and gas, pharmaceuticals and utilities.
Charlotte de Brabandt, for example, speaks five languages and has traveled to more than 60 countries. At Johnson & Johnson, she created a market engagement program (MEP) for global energy procurement for 920 sites across three continents, and achieved final savings equivalent to one year in a three-year contract.
The full list of winners includes:
● Mitchell Agee, Manager - Supply Chain Contracts, The Boeing Company, Seattle, WA
· Manuel Allendesalazar, Forecasting Business Manager - Global Supply Chain Center of Excellence, Teva Pharmaceuticals, Madrid, Spain
● Ajay Kumar Arjunan, Global Commodity Management Senior Advisor, Dell Global B.V., Singapore
● Neta Berger, Supply Chain Program Manager, Google, Mountain View, CA
● Charlotte de Brabandt, Category Associate, Johnson & Johnson, Zurich, Switzerland
● Steven Clowney, CPSM®, Global Commodity Manager, AGCO Corporation, Duluth, GA
● Rhiana Gallen, Contract Specialist, Denver Water, Denver, CO
● Chelsey Graham, Commodity Manager, United States Steel Corporation, Pittsburgh, PA
● Jordan Haller, Procurement Supervisor, ExxonMobil, Spring, TX
● Luis Huazano, Procurement Analyst, Northrop Grumman Corporation, El Segundo, CA
● Trenton Lara, Operations Performance Manager, Senior, Pacific Gas and Electric, San Ramon, CA
● Chang Liu, Business Intelligence Analyst, Royal Philips, Highland Heights, OH
● Jim Lorditch, Staff Buyer, Curtiss-Wright Engineered Pump Division, Bethlehem, PA
● Blake Malburg, Category Specialist, AbbVie, Mettawa, IL
● Madeline Martin, Strategic Sourcing Manager, Dry Animal Proteins and Palatant, Mars Petcare NA, Franklin, TN
● Caitlin Michaelis, Strategic Sourcing Consultant, Anthem, Inc., Indianapolis, IN
● Meer Parekh, Global Sourcing Specialist, Dover Fueling Solutions, Austin, TX
● Josh Pratt, Commodity Manager, United States Steel Corporation, Pittsburgh, PA
● Conor Quarry, Analytics as a Service Lead, IBM, Durham, NC
● Elizabeth Richter, CPSM, Chief of Staff, Flex, Inc., San Jose, CA
● Tanner Ryan, Trucking Coordinator, Shell Trading (US) Company, Denver, CO
● Daniel Sanchez, CPSM, Category Manager - Operations & Marketing, Aquanima, Boston, MA
● Sharndeep Singh, Category Manager, Johnson Controls, Milwaukee, WI
● Lauren Sylvester, Manager, Cargo Air Acquisitions, United States Postal Service, Washington, DC
● Nicholas Ulmen, Project Lead, 3M Company, Maplewood, MN
● Keith Unton, Senior Supply Chain Manager, Walmart Group, The Hershey Company, Bentonville, AR
● Patrique Veille, Sourcing Project Manager Consultant, Renew Design Inc., Winston Salem, NC
● Lisa Weaver, Category Manager, E. I. Du Pont de Nemours and Company, Wilmington, DE
● Hilary Wendt, Category Manager Fee & Wie, Shell Exploration and Production Company, Houston, TX
● Leah Williams, Supply Chain Planning Analyst, Northrop Grumman Corporation, Linthicum, MD
All 30 Under 30 winners are receiving a one-year membership in ISM and complimentary admittance to ISM's Annual Conference, ISM2018 in Nashville May 6-9. Megawatt winner Charlotte de Brabandt will receive an all-expense-paid trip to ISM2018 (up to $5,000) for herself and her nominator.
For profiles and photos of the winners, please visit 30under30.thomasnet.com.
About Institute for Supply Management®
Institute for Supply Management® (ISM®) is an independent, not-for-profit organization that serves supply management professionals in more than 100 countries. Its 50,000 members manage about $1 trillion in corporate supply chain procurement annually. Founded in 1915 as the first supply management institute, ISM® drives value and competitive advantage for its members, contributing to a prosperous and sustainable world. ISM® leads the profession through the ISM Report On Business®, its highly regarded certification and training programs, events, corporate services and the ISM Mastery Model®. For more information, please visit: www.instituteforsupplymanagement.org.
About Thomas
Thomas provides actionable information, data, analysis and tools that align with and support today's industrial buying process. Its solutions include the Thomas Network at Thomasnet.com®, industry's largest and most active buyer/supplier network. Through Thomas Marketing, the company provides full-service industrial marketing programs and website development. Thomas Product Data Solutions helps manufacturers connect with design engineers through advanced CAD/BIM and data syndication services. Thomas Insights delivers original content to help marketers and supply chain professionals inform their decision-making, through leading titles including Inbound Logistics®, Industrial Equipment News® (IEN®), Thomas Industry Update, and the Thomas Index™.
Media Contacts
Dawn Ringel
Warner Communications
781-449-8456 or dawn@warnerpr.com
Rita Lieberman
Thomas
212-629-1532 or rlieberman@thomasnet.com
Also find this announcement on Supply Chain Management Review, EBN, and Supply Chain Dive.
Did you find this useful?