Tony Uphoff Culminates Esteemed Fellowship with Presentation on Future of Business-to-Business Media
This press release was issued on February 10, 2021 at 10:00 am ET via Business Wire .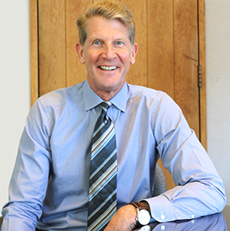 Tony Uphoff Culminates Esteemed Fellowship with Presentation on Future of Business-to-Business Media

Thomas President & CEO Concludes Residency as Medill's McAllister Top Management Fellowship Awardee
New York (February 10, 2021) –Thomas, the leader in product sourcing, supplier selection, and marketing solutions for industry, today announced that President & CEO Tony Uphoff concluded his residency as the 2020 McAllister Top Management Fellow at Northwestern University's Medill School of Journalism with his presentation titled "The Future of Business-to-Business Media." The fellowship, which is considered one of the highest executive honors in B2B media and information, is awarded annually by Connectiv and the Software & Information Industry Association (SIIA).
"The McAllister Top Management Fellow engages leaders of B2B media such as Tony Uphoff to bring their intelligence, insights and successes to students and faculty at the Medill School of Journalism, Media, Integrated Market Communications," said Abe Peck, director of B2B Communications; administrator, McAllister Fellowships; and Professor Emeritus in Service at the Medill School. "Tony is not only a leading executive but something of a B2B futurist, and it was an invigorating opportunity to interact and learn from him."
Uphoff's presentation to students and faculty on February 9 provided deep insights on the rapid transformation of B2B media – a topic on which he is the authoritative voice as evidenced by his esteemed career over the past 25 years. Prior to his role at Thomas, Uphoff worked at several large businesses where he helped spearhead their digital transformations, including Business.com, InformationWeek, UBM TechWeb, VNU Media, and The Hollywood Reporter.
"We are witnessing the convergence of media and software and I've seen firsthand how it's reshaping the business media landscape as we know it," said Uphoff. "Students will inherit this exciting future, which is why I'm humbled to have the opportunity to help lead these timely discussions on the future of B2B media, and serve as an industry mentor."
Uphoff was inducted to the McAllister Top Management Fellowship program in April 2020. As an extension of his Fellowship, Uphoff will continue to engage with undergraduate and graduate students in digital media, integrated marketing communications, data research, and B2B media.
About Thomas
Thomas provides actionable information, data, analysis and tools that align with and support today's industrial buying process. Its solutions include the Thomas Network at Thomasnet.com®, industry's largest and most active buyer/supplier network. Through Thomas Marketing Services, the company provides full-service industrial marketing programs and website development. Thomas Product Data Solutions helps manufacturers connect with design engineers through advanced CAD/BIM and data syndication services. Thomas Industrial Data supplies sourcing and supply chain trend data to media, investors, analysts, and researchers to provide market insight and inform decision making. Thomas WebTrax® provides opportunity intelligence on in-market buyers to help marketing and sales teams track, identify, and engage high-value prospects. Thomas Insights delivers original content to help marketers and supply chain professionals inform their decision-making, through leading titles including Inbound Logistics®, Thomas Industry Update, Industrial Equipment News® (IEN®), and the Thomas Index™.
Contacts:
Alex Kofsky - alex@rosengrouppr.com
Rita Lieberman - rlieberman@thomasnet.com
Did you find this useful?