Find out in this research study on product data challenges.
_________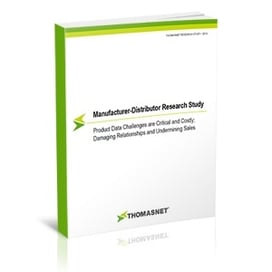 For manufacturers and distributors, sales are the bottom line.
As long as the monthly numbers are in line with expectations, no one questions how the relationship between the distributor and the manufacturer is going.
But what happens when sales fall below expectations, and both parties are left asking, "Why?"
Thomas did some investigating to determine the true cause of disruptions in the manufacturer-distributor relationship and compiled the findings in a Manufacturer-Distributor Research Study.
The research study brings important issues to light, including:
The cause of the manufacturer-distributor disconnect
How the disconnect affects distributors and manufacturers
Solutions available to bridge the gap
Fill out the form to the right to access your free copy of this research study today.